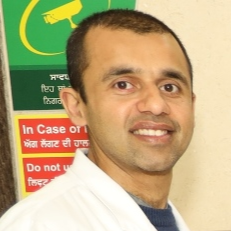 Dr. Abhishek Puri
ASSOCIATE CONSULTANT
Fortis Medcentre, Chandigarh

Oncology | Radiation Oncology
View OPD Schedule
The doctor is available for consultation at multiple locations. Please choose where you would like to visit.
We use the class nav-pills instead of nav-tabs which automatically creates a background color for the tab
We applied clearfix to the tab-content to rid of the gap between the tab and the content
We use css to change the background color of the content to be equal to the tab
About Dr. Abhishek Puri
Dr. Abhishek Puri, MBBS, DNB (Radiation Oncology) is a Radiation Oncologist at Fortis Hospitals, Mohali, Punjab. Dr. Abhishek has specialised in brain and head and neck tumours. He also has a keen interest in cancer prevention, palliative care and exploring innovative uses of technology to solve healthcare challenges. He has over 5 years experience in radiation oncology.