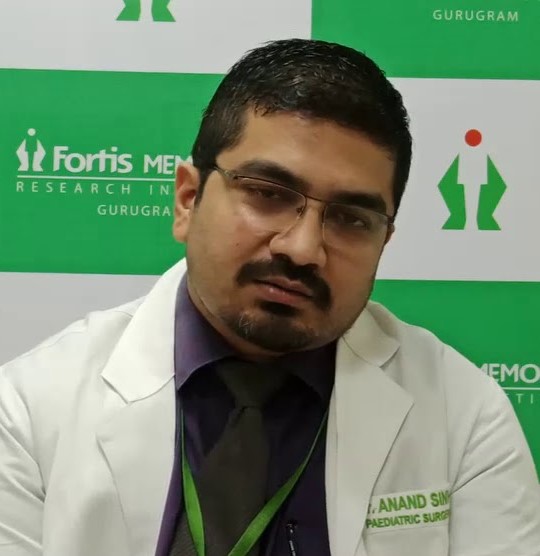 Dr. Anand Sinha
SENIOR CONSULTANT
Fortis Flt. Lt. Rajan Dhall Hospital, Vasant Kunj

Paediatrics | Paediatric Surgery / Paediatric Urology
View OPD Schedule
The doctor is available for consultation at multiple locations. Please choose where you would like to visit.
We use the class nav-pills instead of nav-tabs which automatically creates a background color for the tab
We applied clearfix to the tab-content to rid of the gap between the tab and the content
We use css to change the background color of the content to be equal to the tab
About Dr. Anand Sinha
Dr. Anand Sinha, M.Ch Pediatric surgery (AIIMS, New Delhi), M. Fellow Pediatric Robotic Urology (University of Chicago, Illinois, USA), is an acclaimed and renowned Pediatric surgeon and Pediatric Urologist in the country. He is a Senior Consultant and heads the Department of Pediatric Surgery at Fortis Memorial Research Institute for the last 8 years. He is one of the first pediatric surgeons to start Robotic Surgery in children in India and still amongst the few who practice it. He excels in minimally invasive surgery in neonates and children including laparoscopic surgery, video assisted thoracoscopic procedures, endoscopic urology and robotic surgery and urology in children. He has performed over 10000 surgical procedures over the last 17 years with excellent results. The department is equipped with the latest equipment and skill to provide the best possible surgical outcome sin children. His spectrum includes neonatal surgery. pediatric gastro-intestinal surgery, pediatric urology, pediatric solid tumors, pediatric thoracic surgery, pediatric plastic surgery and other minor pediatric surgical problems. Under him the department of Pediatric surgery has developed into one of the best centre for pediatric surgical care in India with negligible complication rate and near zero mortality and boasts of excellent outcomes, comparable to any international centre. Along with pediatric and neonatal intensive care, specialized pediatric anesthetists and other pediatric super specialties, the department provides one stop solution to all kinds of pediatric surgical problems. He also takes keen interest in educational activities and research.
Overview
MBBS and MS (General Surgery) MCh Paediatric Surgery and M. Fellowship Paediatric Robotic Urology
Global icon awards 2019: Emerging Pediatric surgeon in Delhi 2019 (04.12.2019: New Delhi)