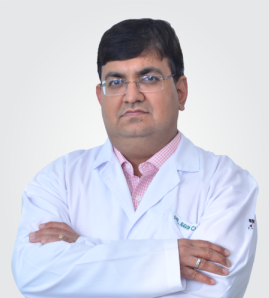 Dr. Navin Chobdar

Fortis Escorts Heart Institute, Okhla Road

Vascular Surgery
View OPD Schedule
We use the class nav-pills instead of nav-tabs which automatically creates a background color for the tab
We applied clearfix to the tab-content to rid of the gap between the tab and the content
We use css to change the background color of the content to be equal to the tab
About Dr. Navin Chobdar
Dr. Navin Chobdar is a Consultant in Vascular surgery at Fortis Escorts Heart Institute, Okhla, New Delhi. He has 7 years of experience in vascular surgery. He has his expertise in open vascular cases, Endovascular, hybrid vascular procedures, Vascular trauma, diabetic foot care.
Overview
MBBS, Diploma in Anaesthesia, DNB (General Surgery), DNB (Vascular & Endovascular Surgery)
He has won the first prize for the best paper presentation at Annual Conference at VSI in September 2013.