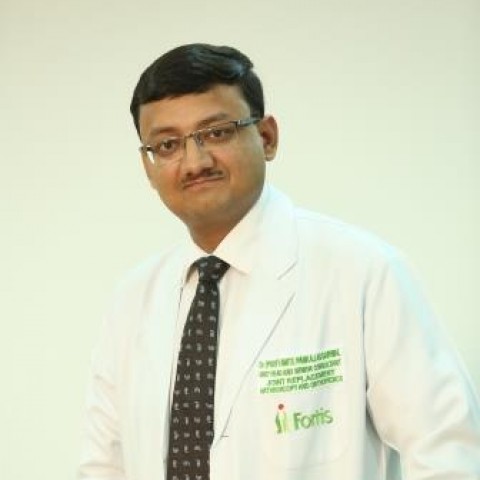 Dr. Amite Pankaj Aggarwal
DIRECTOR & HOD ORTHOPAEDICS
Fortis Hospital, Shalimar Bagh

Orthopaedics
View OPD Schedule
The doctor is available for consultation at multiple locations. Please choose where you would like to visit.
We use the class nav-pills instead of nav-tabs which automatically creates a background color for the tab
We applied clearfix to the tab-content to rid of the gap between the tab and the content
We use css to change the background color of the content to be equal to the tab
About Dr. Amite Pankaj Aggarwal
Dr. (Prof.) Amite Pankaj Aggarwal is a nationally and internationally renowned surgeon and an alumnus of the premier institute of India, All India Institute of Medical Sciences, New Delhi. He has 25 years' experience in Orthopedics and joint replacement surgery with impeccable academic credentials. He has been trained at the best of centers in India and abroad. He is one of youngest surgeons in the country to become a professor of Orthopedics and has won many national and international fellowships and awards. He is a sought after faculty member at various regional and national conferences, CMEs and courses on arthroplasty and arthroscopy. He has performed live arthroscopy and arthroplasty surgeries at various conferences and has been invited to several cadaveric courses to impart training to young orthopedic surgeons. He is holding executive positions in national and regional professional bodies and is on editorial and reviewer board of several indexed peer reviewed journals. Work experience: He has experience with over 9 thousand of joint replacement surgeries (Knee, hip and Shoulder) including complex deformities and revision surgeries. He has a rich experience of using bulk allografts in complex revision cases. He is a promoter of "Fast-Track" Total knee arthroplasty concept where the patients are mobilized after a couple of hours. This approach reduces the chances of complications. He uses Robotics & Latest computer navigation technology, to improve the precision of surgery giving better and longer lasting results. In addition, he has extensive experience in sports related arthroscopic surgeries of knee and shoulder. Many national & international sports person have gone back to win after successful treatment of sports injuries. Multiligamentous injuries of the knee are tackled simultaneously and cartilage restorative procedures are performed routinely.
Overview
MBBS (AIIMS) MS (AIIMS) DNB Ortho MRCS Edinburgh,MNAMS
IOS-UK Fellowship Award 2010 IOA-AOA Fellowship Award 2011 IOA-Johnson and Johnson Fellowship Award 2008 Ranawat's "K T Dholakia" Award for best work in the field of Joint Replacement in 2007 Australian Pain Society Award 2004