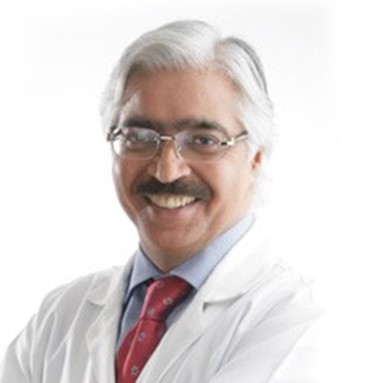 Dr. Ashok Seth.
CHAIRMAN CARDIAC SCIENCE
Fortis Escorts Heart Institute, Okhla Road

Cardiac Sciences | Interventional Cardiology
View OPD Schedule
We use the class nav-pills instead of nav-tabs which automatically creates a background color for the tab
We applied clearfix to the tab-content to rid of the gap between the tab and the content
We use css to change the background color of the content to be equal to the tab
About Dr. Ashok Seth.
Dr Ashok Seth is Chairman of Fortis Escorts Heart Institute, New Delhi, Chairman of Fortis Healthcare Medical Council, and Adjunct Professor of Cardiology at JN Medical College (Aligarh Muslim University) and National Board of Examinations. Dr. Seth has led the field of Interventional Cardiology for last 32-years and has contributed extensively to the development, scientific progress and education in this field and pioneered numerous angioplasty techniques for India and Asia Pacific. Dr.Seth has been honoured by Doctorates from six prestigious national universities BHU, AMU, Jamia Millia Islamia, Amity, Shiv Nadar and Teerthankar Mahavir University. He has been conferred Adjunct Professorship of Cardiology of J N Medical College, Aligarh Muslim University and the National Board of Examinations. He is Founder/Course Director of five major National & International Angioplasty Teaching Courses - India Live, India Valves, CHIP-CTO India, AICT-Asia PCR and Imaging & Physiology Council of India. He is also Associate Director of TCT Scientific Sessions (USA) and Program Committee Member of Euro PCR. Dr. Seth has been invited to lecture at more than 450 national & international meetings and to teach complex angioplasty techniques through Live Demonstration at more than 100 national & international meetings across the world including the prestigious TCT (Transcatheter Cardiovascular Therapeutics) in USA, Euro PCR in Paris and Singapore Live in Singapore. He has more than 350-publications to his credit in peer reviewed Indian and International medical journals and has chapters in 30-books on Cardiology and has been the Editor of 3-books. He is an acclaimed teacher and has trained more than 500-cardiologists of India and abroad in advanced techniques of angioplasty.
Overview
FRCP (Lond, Edin, Irel), FACC, FESC, MSCAI, FAPSIC, FIMSA, FCSI, DSc ( BHU, AMU, Amity U, TMU, Shiv Nadar U ), D Litt ( Jamia Millia U )
Dr. Seth has been awarded by the National Honour of Padma Shri in 2003, Padma Bhushan in 2015 and B.C.Roy National Award for the most Eminent Medical Person by the President of India in January 2017. He has also been awarded the National Honour of Republic of Spain Crus Officer with Insignia Order of Isabella the Catholic Master Interventionalist (MSCAI) by the Society for Cardiovascular Angiography & Interventions (USA),Life Time Achievement in Interventional Cardiology Award by Chien Foundation (Singapore) in addition to 85 other national and international awards.