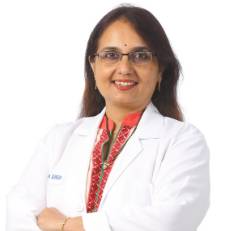 Dr. Manisha Rajpal Singh
CONSULTANT OBSTETRICS & GYNAECOLOGY
Fortis Hospital, Bannerghatta Road

Obstetrics and Gynaecology
View OPD Schedule
We use the class nav-pills instead of nav-tabs which automatically creates a background color for the tab
We applied clearfix to the tab-content to rid of the gap between the tab and the content
We use css to change the background color of the content to be equal to the tab
About Dr. Manisha Rajpal Singh
Dr. Manisha Singh is an eminent Gynaecologist and a sub-specialist in Reproductive Medicine & Surgery with over 30 years of extensive surgical experience. She is also an acknowledged expert in Reproductive Medicine and Surgery services by Royal College of Obstetricians and Gynaecologists (RCOG), London, UK. A meritorious and award-winning student, Dr. Manisha, commenced her training in Obstetrics & Gynaecology at KEM Hospital in 1991 and was subsequently awarded the Doctorate of Medicine by the Mumbai University (1994) , followed by the award of DNBE by the National Board of Exams, New Delhi (1995). She was then awarded the MRCOG in 1997, followed by CCST in 2005 with dual accreditation in Reproductive Medicine & Surgery in 2007 (RCOG, UK). Later, she completed her Doctorate in Reproductive Medicine (DM) from University of Leeds (UK) in 2008. Her recent appointment was at Saint Mary's University Teaching Hospital & CMFT NHS Trust (UK) as a Consultant Gynaecologist and Subspecialist in Reproductive Medicine & Surgery. A recognized preceptor by RCOG and University of Surrey (Guildford) for Minimal Access Surgery and for Gynae-ultrasound, also, she is recognized as a super-specialty preceptor & assessor by RCOG for Reproductive Medicine and Surgery. Dr. Manisha is an acknowledged expert in Advanced Reproductive Minimal Access Surgery and Assisted Conception. She is also a trained Robotic Surgeon. She has performed more than 3000 first operator complex Laparoscopic and Hysteroscopic procedures including Total Laparoscopic hysterectomy (TLH), Laparoscopic assisted vaginal hysterectomy (LAVH), Ovarian Cystectomy, Salpingectomy, Adhesiolysis, Excision of pelvic endometriosis, Myomectomy and hysteroscopic resection of sub-mucous fibroids. She has also performed over 2500 cycles of IVF / ICSI, 2000 IUI cycles and about 3000 cases of ovulation induction successfully.
Overview
MBBS., DGO, DNBE, MD (Ob & Gynae), FRCOG, Doctorate Reproductive Medicine (UK)
She won the Bhargava competitive Medal for Obstetrics and Gynaecology in 1989 and was subsequently awarded the FOGSI travelling fellowship award to train in Reproductive medicine in Singapore in 1994. She was awarded a Distinction with Honours in MD (O &G) by the Mumbai University in 1994. She has been a tutor at RCOG, UK. Apart from being the conductor-facilitator of MRCOG exams in Manchester, she has is a certified trainer for the MRCOG exam. She is also a member of reputed societies such as RCOG, British Fertility Society, FOGSI and MOGS.