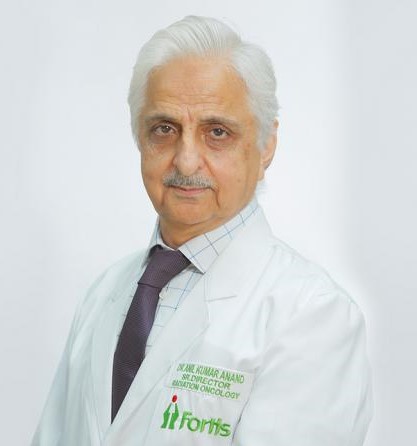 Dr. Anil Kumar Anand
DIRECTOR & HOD RADIATION ONCOLOGY
Fortis Memorial Research Institute, Gurugram

Oncology | Radiation Oncology
View OPD Schedule
The doctor is available for consultation at multiple locations. Please choose where you would like to visit.
We use the class nav-pills instead of nav-tabs which automatically creates a background color for the tab
We applied clearfix to the tab-content to rid of the gap between the tab and the content
We use css to change the background color of the content to be equal to the tab
About Dr. Anil Kumar Anand
Dr Anil Kumar Anand has over 30+ years of rich experience to his credit in the field of radiation oncology. He is an alumni of Dayanand Medical College Ludhiana from where he did is MBBS, followed by MD (Radiotherapy and Oncology) from Post Graduate Institute of Medical Education and Research (PGI) Chandigarh. He has done specialised training in radiation therapy at the New York Hospital Medical Centre of Queens. He has also done specialised training in Radiotherapy of Head and Neck Cancers from The Middlesex Hospital Medical School, London.  Dr. Anand has joined FMRI, Gurugram from Max hospital, Saket where he wasassociated as Principal Director-Radiation Oncology since 2009. Previously hewas associated with organizations like Rajiv Gandhi Cancer Institute, BatraHospital and Medical Research Center, New Delhi and PGI Chandigarh.   Dr Anand has many scientific publications to his credit, the most recent being Stereotactic Body Radiation Therapy (SBRT)in recurrent head and neck cancers. He is a member of Indian Society of Oncology, American Society of RadiationOncology and Association of Radiation Oncologist of India. He is also an Advisor of Scientific Bodies like (ICRO), WHO andother UN organisations. He is a member of Editorial board, Journal of Cancer Research and Therapeutics.
Overview
MBBS, MD (Radiotherapy & Oncology)