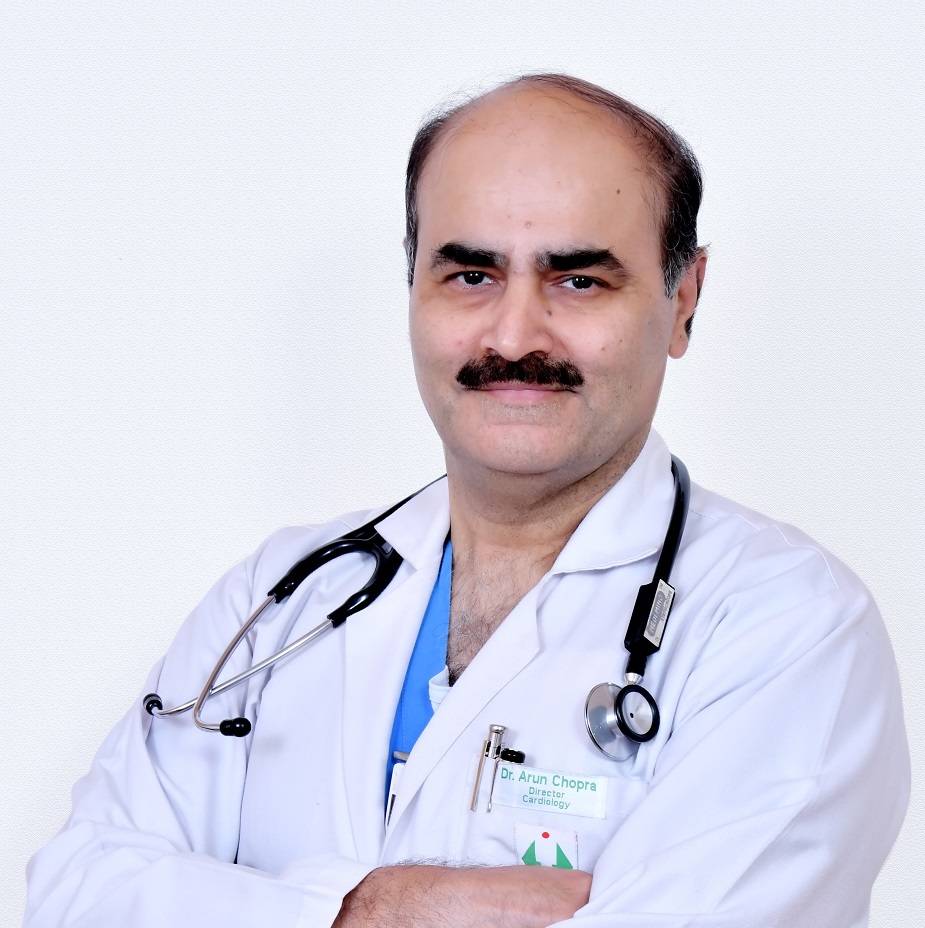 Dr. Arun Kumar Chopra
DIRECTOR CARDIOLOGY
Fortis Escorts Hospital, Amritsar

Cardiac Sciences | Interventional Cardiology
View OPD Schedule
We use the class nav-pills instead of nav-tabs which automatically creates a background color for the tab
We applied clearfix to the tab-content to rid of the gap between the tab and the content
We use css to change the background color of the content to be equal to the tab
About Dr. Arun Kumar Chopra
Dr Arun Kumar Chopra is a well-known Interventoinal Cardiologist in Amritsar with over 22 years of experience in performing coronary and non-coroary diagnostic and therapeutic procedures. Till date, he has performed over 22000 catheterizations including 5000+ angioplasties, 1500+ balloon valvuloplasties, peripheral, renal, and carotid angioplasty and stenting. He is also experienced in performing intervenions in patients with congenital heart disease like ASD, PFA and PDA device closures, balloon dilatation, etc. With the special interest in electrophysiology, he has done over 600 diagnostic EP studies, 1000+ radio-frequency ablations (RFA) and 1800+ device implantations. MBBS | Government Medical College, Patiala | 1989, MD (Medicine) | Government Medical College, Patiala | 1994, DM (Cardiology) | All India Institute of Medical Sciences (AIIMS), Delhi, 1997 After completing DM, he worked as Research Associate and Assistant Professor at AIIMS, Delhi. In 2002, he joined Escorts Heart Institute and Research Centre in Delhi and subsequently shifted his practice to Amritsar permanenly in 2006. Since then, he has been associating with Forits Escorts Hospital and has been the Director Cardiology since 2012. Apart from publising numerous research papers, Dr Arun Kumar Choptra held many positions such as Course Director for Amritsar Cardiology Summit 2008, 2009, 2011, 2013 amd 2014., Jt Organising Secretary in the 1st Indo-Pak Heart Summit at Amritsar, Mar 2004., Course Director for Cardiorhythm 2009, a conference on all aspects of cardiac electrophysiology., Editorial Secretary for the official journal of the Cardiological Society of India - "Indian Heart Journal"from Jan 2001 to Dec 2003., Member, Editorial board, Indian Pacing and Electrophysiology Journal, from its initiation in 2001., Editorial Assistant for "Cardio Update" in 1998-99.
Overview
MD, DM (Cardiology) (AIIMS)
Overall 6th position in all 3 professionals (MBBS)., Honours and 2nd position in Obstetrics and Gynaecology., Certificate of merit in pre-university (8th in Punjab University, Chandigarh)., Certificate of merit in pre-medical (10th in Punjabi University, Patiala)., Certificate of merit in class X (AISSE) for ranking 34th in India, 1983., Second prize in All India Declamation contest on Space and Mankind, 1982.