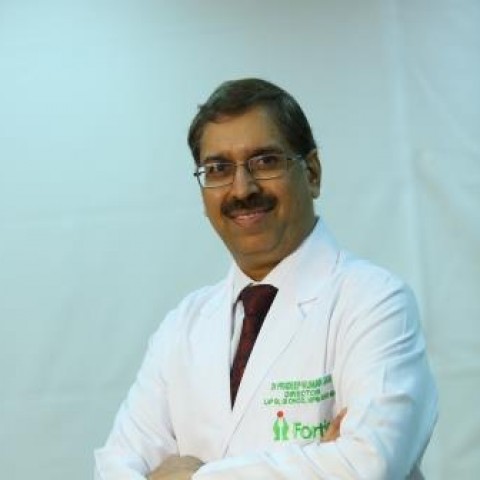 Dr. Pradeep Jain
DIRECTOR & HOD LAP GI, GI ONCO, BARIATRIC & MIS SU
Fortis Hospital, Shalimar Bagh

GI Oncosurgery | Surgical Oncology
View OPD Schedule
The doctor is available for consultation at multiple locations. Please choose where you would like to visit.
We use the class nav-pills instead of nav-tabs which automatically creates a background color for the tab
We applied clearfix to the tab-content to rid of the gap between the tab and the content
We use css to change the background color of the content to be equal to the tab
About Dr. Pradeep Jain
Dr. Pradeep Jain has wide experience of Gastroenterology Surgery. He has done his M.S (Surgery) and M.Ch in Gastrointestinal and Hepatobiliary Surgery. Presently leading (Principal Director) the Department of Laparoscopic & Robotic GI, GI Onco, HPB & Minimal Access Surgery in Fortis Hospital, Shalimar Bagh. He graduated from Maulana Azad Medical College, Delhi and completed his MS (General Surgery) from Maulana Azad Medical College and LNJP Hospital. He has done his M.Ch (Gastroenterology & Hepatobiliary Pancreatic Surgery) from G.B.Pant Hospital. He has been trained in Advanced Laparoscopic Colorectal surgery from Seol, South Korea, Japan & USA. His particular areas of expertise are Advance Laparoscopic & Robotics GI, GI Onco Surgery & Bariatric Surgery (weight loss surgery), and liver pancreas surgery. He has performed at the Asian Institute of TeleSurgery, Taiwan. Currently, he is chairman of GI Council in Pan Fortis. He is a certified robotic surgeon by intuitive surgical. He has operated more than 30000 successful GI surgeries in Open, Laparoscopic & Robotic techniques.
Overview
M.S , M.Ch. ( Gastroloenterology Surgery )
ACHIEVEMENTS: Trained at DongGuk University Hospital, Seoul, South Korea, in Advanced Laparoscopic surgery for Colo-rectal Diseases. Chaired many sessions in national and state level conferences. Taken lectures in state and national level conferences. One of the pioneer in performing Thoracoscopic and Laparoscopic Esophagectomy & Laparoscopic Whipples in North India Only G I Surgeon in Delhi who is performing advanced laparoscopic Oncosurgery and Bariatric surgery Organizing Chairman of National Conference (GI Surgicon, 2014, 2015, 2016) Author of teaching DVD on Advanced Laparoscopic GI Surgery Running CREST Program (for Advance Laparoscopic Colorectal Surgery Training program from last 2 year) Had conducted fellowship courses in Advance Laparoscopic Colorectal Surgeries (FALS 2017) Conducts live surgeries demonstration in National Conferences Visiting Professor at Asian Institute of TeleSurgery at Taiwan Trained Robotic Surgeon from da Vinci One of the pioneer in performing Thoracoscopic and Laparoscopic Esophagectomy & Laparoscopic Whipples in North India Only G I Surgeon in Delhi who is performing advanced laparoscopic Oncosurgery and Bariatric surgery Organizing Chairman of National Conference (GI Surgicon, 2014, 2015, 2016) Author of teaching DVD on Advanced Laparoscopic GI Surgery Running CREST Program (for Advance Laparoscopic Colorectal Surgery Training program from last 2 year) Had conducted fellowship courses in Advance Laparoscopic Colorectal Surgeries (FALS 2017) Conducts live surgeries demonstration in National Conferences