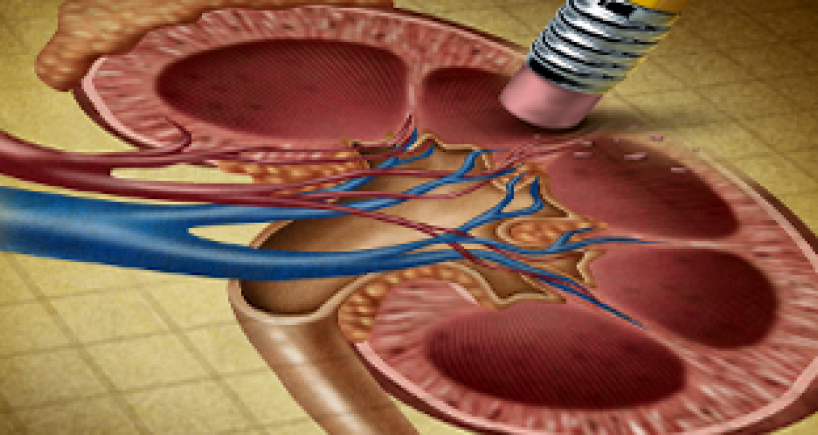 Chronic Kidney Disease: An Emerging Epidemic
Chronic Kidney Disease: An Emerging Epidemic
Mar 04, 2015
Chronic Kidney Disease (CKD) describes the gradual loss of kidney function. When CKD reaches an advanced stage, dangerous levels of fluid, electrolytes and wastes can build up in your body which may lead to serious complications
The current era of sedentary lifestyle has resulted in exponential growth of lifestyle diseases such as Diabetes Mellitus and high Blood Pressure (BP), but very few people have heard of Chronic Kidney Disease (CKD) as a public health menace. The numbers are simply frightening. In 2005 a study conducted by a public hospital estimated that the prevalence of CKD in Delhi is 0.785 per cent of the population. This translates to 7852 patients per million population and this number is expected to grow with the rising number of patients with diabetes and high BP. The growing concern regarding CKD is justified by the fact that it affects nearly one per cent of the population and the survival in advanced CKD is less than most forms of cancer.
What is CKD
CKD is a condition characterized by a gradual loss of kidney function over time. As kidney disease gets worse, waste builds to high levels in the blood and make the patient sick. Patients may develop complications like high BP, anemia, weak bones, poor nutritional health and nerve damage. Early detection and treatment can often keep CKD from getting worse and progression can be slowed down.
Vital Facts
• Hypertension (high BP) causes CKD and CKD causes hypertension. • If the protein is present in the urine persistently then it means CKD is present. • High risk groups include those with diabetes, hypertension and family history of kidney disease. Early detection can help prevent the progression of kidney disease to kidney failure. • Three simple tests can detect CKD: BP, urine albumin and serum creatinine.
causes
The two main causes of CKD are diabetes and high BP. Diabetes Mellitus remains the commonest cause of CKD.
Other conditions that affect the kidneys are:
• Diseases that cause inflammation and damage to the kidney's filtering units • Inherited diseases like polycystic kidney disease • Diseases that affect the body's immune system especially Lupus in young women • Obstructions caused by problems such as kidney stones, tumours or an enlarged prostate gland in men • Repeated urinary tract infections
symptoms
Most people may not have any symptoms until their kidney disease is advanced. However, the patients may notice that they: • Feel tired and have less energy • Have trouble in concentrating • Have a poor appetite • Have trouble in sleeping • Have muscle cramping at night • Have swollen feet and ankles • Have puffiness around your eyes, especially in the morning • Have dry, itchy skin • Need to urinate often, especially at night.
What can be done to slow down progression of kidney disease?
The most common causes of CKD are diabetes and high BP and their control remains the cornerstone of management. • Strict blood sugar control with HbA1c levels below 7 per cent. • Strict BP control with BP levels below 140/90 at all times. • No intakes of pain medicines (NSAID's) as these worsen kidney function. • Visit a nephrologist regularly. • Regular blood and urine tests to asses kidney function and to determine the amount of protein in the urine.
 What are the modalities of treatment for chronic kidney disease ?
When a patient reaches CKD stage 5 (kidney function less than 15 per cent of normal values) there are two modalities of treatment for chronic kidney disease from which the patient can choose. Dialysis Dialysis is a way of cleaning blood when the kidneys can no longer do the job effectively. Dialysis gets rid of body's wastes, extra salt and water, and helps to control BP.
There are two methods of dialysis:
• Haemodialysis:
In haemodialysis, a dialysis machine and a special filter called an artificial kidney, or a dialyzer, are used to clean the blood. This needs to be done three times a week for four hours each time.
• Peritoneal dialysis:
In peritoneal dialysis, the inside lining of the patient's own belly acts as a natural filter. Wastes are taken out by means of a cleansing fluid called dialysate, which is washed in and out of the abdomen in cycles. This needs to be done daily.
Kidney Transplant
A kidney transplant is an operation in which a person whose own kidneys have failed receives a new kidney to take over the work of cleaning the blood. The donor has to be between 18-65 years of age and by law should be a relative of the patient. A kidney transplant offers best rehabilitation and quality of life in patients with CKD.